Finding Great Peace
in the Word of God
The books in the Great Peace Series for Christian Living venture into the pages of the Bible and explore the lives of people just like you. In these books, you will learn how people with real problems experienced God in a real way during the difficult times of life.
Great peace have they which love thy law: and nothing shall offend them.  Psalm 119:165
Excerpts from the books in the Great Peace series have been personalized in these beautiful 30-page booklets that contain your name on the cover and throughout the text. You will be especially blessed in a very personal way as you read your name in over 100 places in the Bible principles, promises, poetry, and prayers.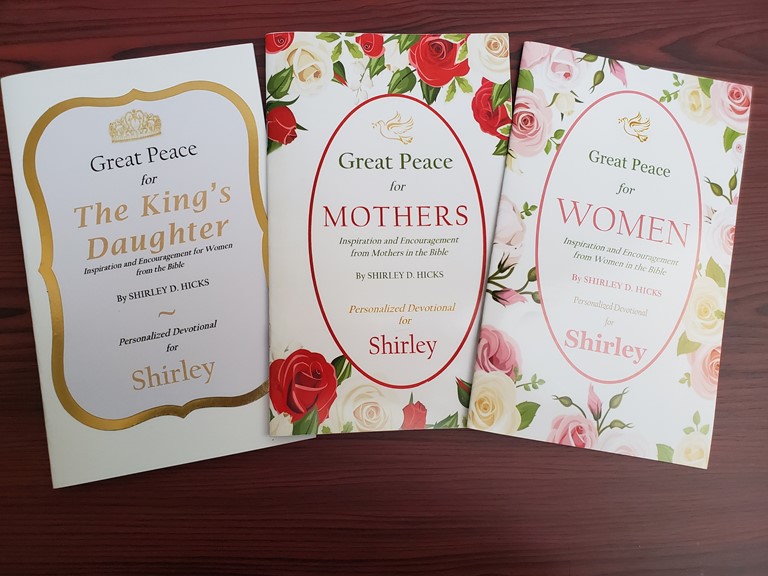 Booklets
The Great Peace Personalized booklets address some of the most common challenges that people face each day. The booklets will speak directly to you and your situation as you read your name on the cover and throughout the text. 
Matching Envelopes
Every Great Peace booklet comes with a  personalized envelope to make your booklet extra special.
A Book with Your Name in It!

For the price of a greeting card, you can enjoy a personalized book that will inspire and encourage you in a unique way. The personalized books are also wonderful gifts for Christmas, birthdays, church retreats, graduation, baby showers, or any time you want to bless someone's life in a special, personalized way. Free Shipping!
In the Great Peace devotional books, you will discover:
Bible People – See how God divinely worked in the lives of people just like you who faced difficult situations.
Bible Poetry – Be encouraged by the inspirational poetry that will speak directly to your heart and help you trust in God.
Bible Promises – Find new hope in the powerful and eternal promises of God.
Paperback Books and eBooks Available on Amazon.com
The Great Peace Series for Christian Living includes paperback books and ebooks for enduring the storms of life, beginning again, and facing each new day. The series also includes books written specifically for women and mothers. Discover how you can find great peace in the Word of God through this series of inspirational books. Order them on Amazon.com.
The 5×7 Personalized Devotional Journal
Smaller 5×7 size that you can easily hold in your hands, or carry in your purse or pocket
Hardbound cover for extra durability
Spiral bound pages that lay flat for easy reading
Extra journaling pages where you can add your personal notes
The personalized devotional journal can become a special keepsake. Also makes a great gift! 
"I pray that the Great Peace series of books will remind you of how God worked in the lives of people in the Bible, and help you find great peace in knowing that He can also bless you as you live for Him today."
                                                          We ship all over the country!